You are only one skill away from Freedom
MEET THE CEO AND FOUNDER OF THE 6 FIGURE CLOSER MOVEMENT
Discover How to Tap into a 50 Billion Dollar Industry
… and ease your way to Freedom
The education & work system is broken… Focused on teaching you to have an employee mindset by working for other people trading time for money, with no freedom to do what is most important to you. You end-up feeling overworked, underpaid and under appreciated.
Now You Can also make 6 figures from your laptop location free while living life on your own terms…
We take you through a powerful 90 day Process to become a 6 Figure Closer Fast. The amazing TRUTH is, that Freedom is easy when you master your mind and this one fundamental skill.
The 90 day Freedom Plan was created after teaching 50 people our system that generated 2 million in high ticket sales in 2019 and there was a common theme. We were able to have people with no experience or confidence leave jobs they hated, claim freedom and be sprinting towards 6 figures on their own terms in a 90 day period.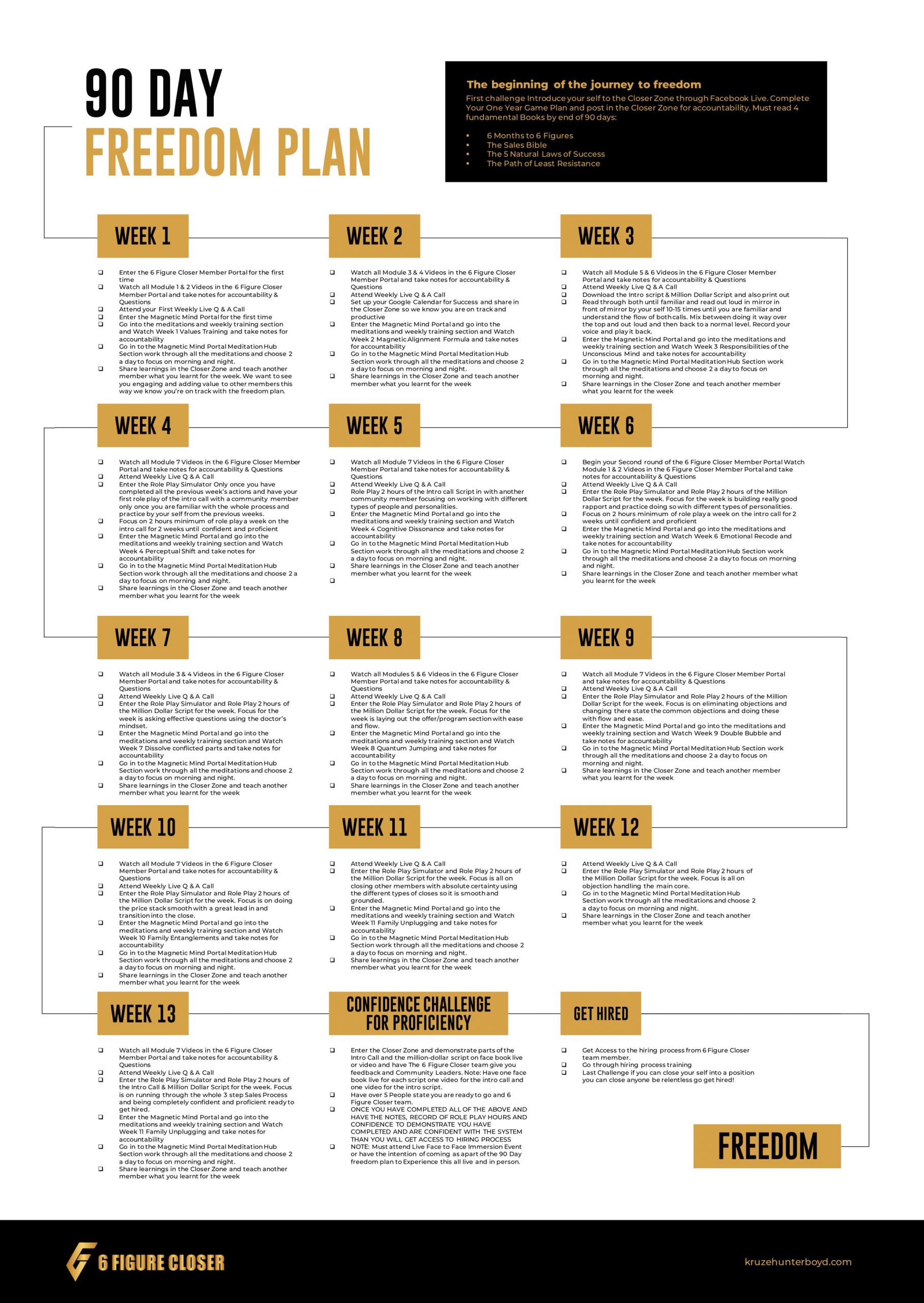 DON'T JUST TAKE
OUR WORD FOR IT
Before working with Kruze I spent over $10,000 on personal growth and did one of the best sales programs in the world, however was never given the guidance I needed to Truly Thrive. Thank you Kruze not only have we became great friends, but also you have changed my life. You are a genuine person and changing lives keep at it legend!
I have spent over $150,000 on self development and programs that claim to give you your dreams up until now this has been the only program that has helped me achieve money, freedom and overall happiness and wellbeing. So far from the life changing results I have experienced I have now had 5 of my close friends join 6 figure Closer and experience the freedom this vehicle gives. If your sitting on the fence don't. This is a game changer.
The results we achieved using the Kruze's Closing System were unimaginable. I am now running a Multi-Million Company from the support of Kruze his 6 figure closers and the System.
Wow what a journey working with Kruze I went from a burnt out Chef working long hours to full time closing Over 6 figures and marrying my wife with an incredible honeymoon. Kruze I can't thank you enough for your support and guidance.
I had previously spent over $20,000 on Coaches and programs that promised me the world. It felt like I was pushing myself up a hill. Kruze and 6 Figure Closer quite literally changed the game for me! Reach out to Kruze if you are ready to live a life of freedom and on your own terms. Thanks so much!
HERE WHAT OTHER PEOPLE HAVE TO SAY VIDEO TESTIMONIALS